BY ATHENA PABDER
It all started with a humble cart in Maginhawa Street in Quezon City. Now, the community pantry movement is all over the country, providing temporary relief to thousands of hungry Filipinos who lost their livelihood due to the COVID-19 pandemic.
Donations from private citizens filled up these pantries–students are donating part of their baon, workers contribute funds from their measly daily wages. These are all laudable, especially when you know that everyone is having a hard time just trying to stay alive during the pandemic. Then you see these people who seem to have little, but offered so much. Here are some of the most Good Vibes stories we've seen so far.
1. Ice cream for free
Melynn Alipio Limjap, who set-up a community pantry in Pasay City, shared this snap of a manong sorbetero who gave away his day's worth of goods. The ice cream contribution provided relief to dozens of people lining up to get food under the summer heat.
In an interview with ABS-CBN News, vendor Elmer Sarenas Leal said he is happy that his simple deed made people happy. "Sobrang kagalakan po nag-uumapaw halos lahat ng makakita sa akin kanina tumatawa po," said Leal.
Way to go, manong!
2. Hot cup of taho for a lovely morning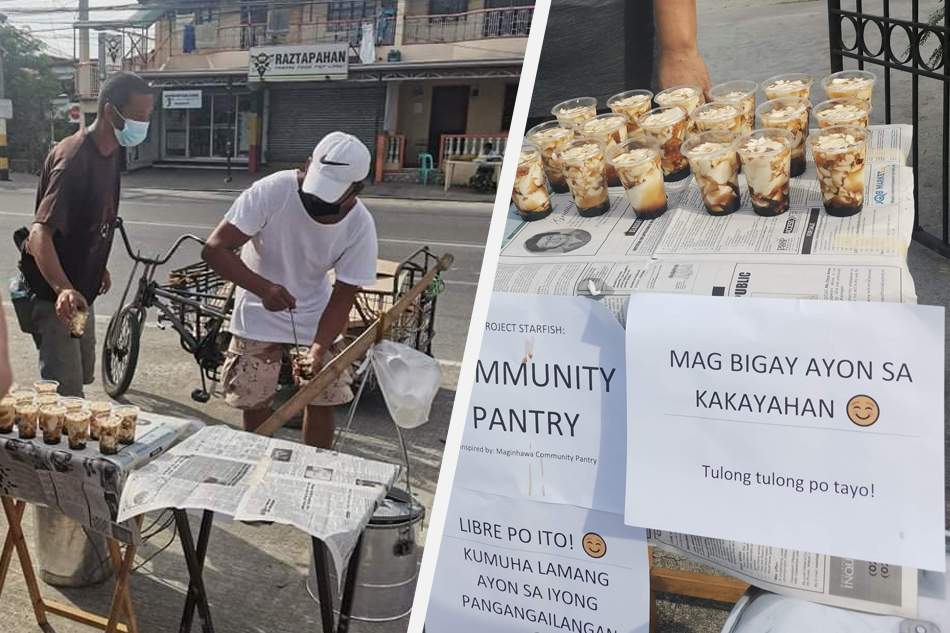 In Barangay Panamitan, Kawit, Cavite, a taho vendor happily contributed cups of taho to a community pantry. According to NGO group Project Starfish, it bought P250 worth of taho from the vendor, identified as Kuya Nelson, so it could distribute the breakfast staple to construction workers nearby. When the vendor learned of the good deed, he readily added more cups. That taho story did not only provide a hot cup of morning drink; it definitely warmed our hearts, too!
3. Sweet (potato) deed
Farmers from Paniqui, Tarlac shared their sweet potato produce to the Maginhawa community pantry. Ana Patricia Non, who pioneered the community pantry, shared this photo of donations. She aptly captioned it: Mula sa masa tungo sa masa. (From the masses to the masses.)
Truly, in times of need, even the marginalized sectors of the society will find ways to help.
4. Good samaritan gives out cash
People hoping to get goods from a community pantry in Makati City got a pleasant surprise when an anonymous man gave those in the queue P100 each!
Holy smokes! A man arrived at our #CommunityPantry in Makati and gave away P100 to everyone in the line. Hindi nagpakilala. Salamat kung sino ka man! pic.twitter.com/dCEZuQPpOq

— Teddy Casiño (@teddycasino) April 22, 2021
In a video shared by former Bayan Muna Rep. Teddy Casino, the nameless donor is seen giving out cash–no fanfare, just pure goodness. There was no commotion and people adhered to physical distancing rules. The scene was just too perfect.
Whoever you are, may your days be full of blessings too.
5. Bowowow: Pawntry for pets
Animals need love too so kudos to the Philippine Animal Welfare Society for putting up a community pawn-try where people can get goods for their pets or to help stray animals.
Located at the PAWS headquarters along Aurora Boulevard in Quezon City, the pawn-try offers free food and supplies for animals.
"Inspired by the Maginhawa Community Pantry, PAWS has put up its own table outside the PAWS gate today. Medyo hirap na rin po kami sa cat food so we are just putting out whatever extra we have for pet owners in need," the group said in a Facebook post.
"To drop off a donation, just wave to our friendly gateboy, JJ, and he will try to help you arrange your donations on the table," PAWS added.